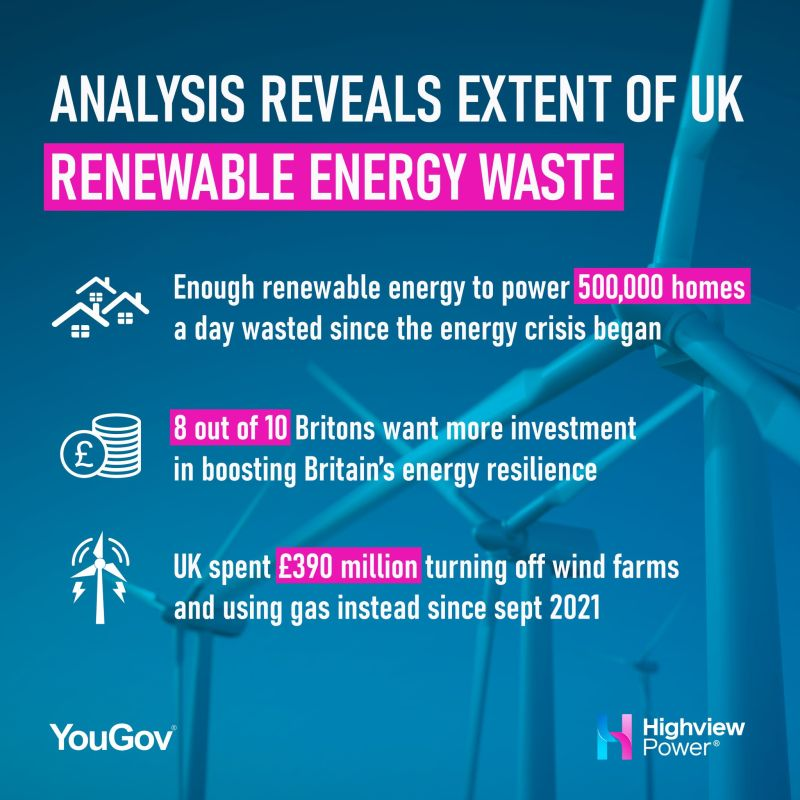 New research reveals the scale of 'wasted' renewable energy as Britain braces itself for winter crisis
The UK has wasted enough renewable energy to power 500,000 homes since energy crisis began
New poll reveals three quarters of the public are worried about paying fuel bills this winter
Eight out of ten Britons want more investment in boosting Britain's energy resilience
New research reveals the scale of renewable energy that is being 'wasted' in Britain as millions of families face a looming winter fuel crisis.
Analysis commissioned by long duration energy storage developer Highview Power reveals the UK has wasted enough wind power since the energy crisis began to power 500,000 homes a day.
The research was published alongside new YouGov polling that reveals almost half of all Britons think the UK imports too much gas and eight out of ten people want to see more investment in renewable energy storage.
Highview Power is Britain's leading developer of long duration energy storage, which captures and stores renewable energy created by wind farms for use by the National Grid whenever it is needed.
Its research reveals the UK has wasted over 1,300 GWh of wind energy since the crisis began in September 2021, enough to power half a million homes a day.
The waste is due to lack of storage capabilities for renewable energy that is undermining the UK's ability to reduce its dependence on gas and achieve long-term energy security.
As a result, the UK spends more money turning off wind farms and using gas as a backup, at a cost of over £390 million since September 2021.
Figures from the Office for National Statistics reveal the UK imported nearly £20 billion of gas in 2021, a 312% increase on 2020's £4.8billion.
Long duration energy storage (LDES) would reduce National Grid costs by up to £2 billion, passing on energy bill savings of up to £50 per household a year.
Highview Power also commissioned polling by YouGov which revealed 74% of people are worried about paying their energy bills this winter.
Almost half of those polled, 43%, said Britain imported too much gas and 81% said they wanted to see the Government invest more in renewable energy storage solutions.
The poll and analysis comes as bills are forecast to rise to more than £3,200 when the price cap is set again this October.
The YouGov poll reveals a quarter of adults, 25%, think the Government is "most responsible" for the rise in energy bills, while 21% believed soaring bills are being driven by the war in Ukraine. Almost one in four people, 23%, said it was energy companies who were most to blame.
"Long duration energy storage can help stabilise energy prices for the long term," said Highview Power CEO, Rupert Pearce.
"By capturing and storing excess renewable energy, which is now our cheapest form of energy, we can keep energy costs from spiralling and power Britain's homes with 24/7 renewable green energy, taking millions of tonnes of carbon out of the atmosphere. This will guarantee the UK's investment in renewables and reduce our dependence on gas."
Long duration electricity storage (LDES) can reduce the UK's reliance on gas by 10 megatonnes in 2035 – the equivalent of removing gas from 4 million homes.